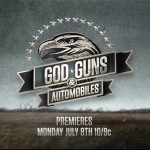 I had a blast helping create and produce God, Guns & Automobiles for History Channel. Everyone on the cast and crew was amazing and I took a lot of photos during the four months it took to film Season One. (click on images to make them bigger)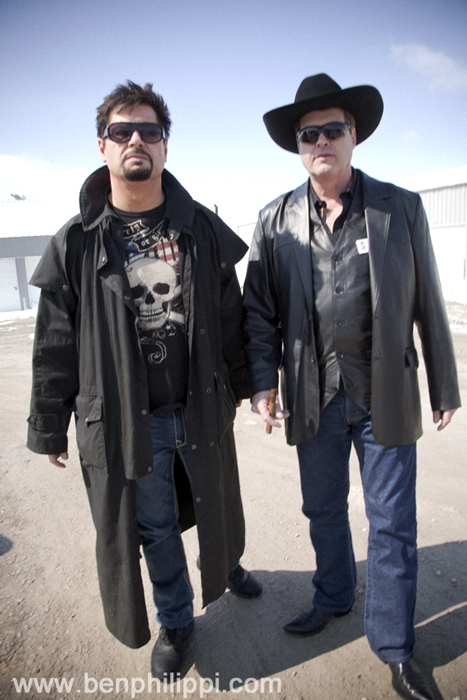 Erich 'Mancow' Muller and Mark Muller. Two American badasses who star in the show.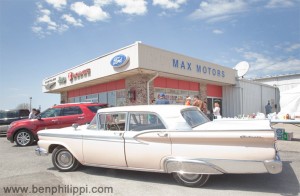 Max Motors in Butler, Missouri where most of our filming took place. It is owned by Mark Muller. His brother Erich 'Mancow' Muller owns a percentage of the business. His 'outlaw' staff make up the majority of the secondary characters of the show.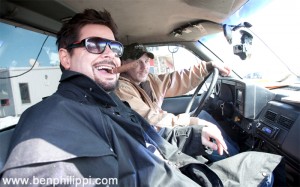 Mancow is a popular radio host from Chicago. He brought a lot of excitement to the show.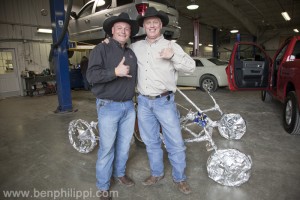 Rod 'Hot Rod' Berry and Matt 'Cowboy' Harvey are two of co-stars of the show seen here in front of their Redneck Mars Rover.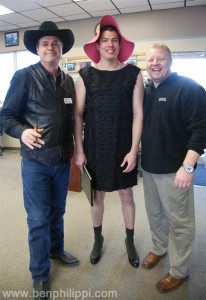 Mark with Jason Claspill and Larry VanZandt who are two more co-stars. Jason is seen here wearing a dress for a scene. Strangely, he didn't seem to mind wearing it.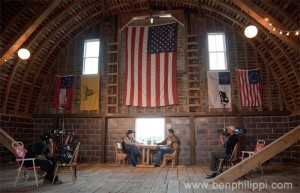 Our show is about the American Heartland, doing the right thing and putting Real back in Reality. Our show is completely unscripted.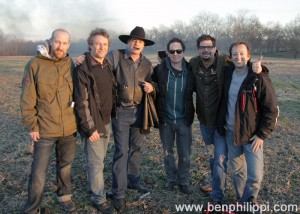 This photo was taken in December 2012 shortly after blowing up the car that you see in the introduction to the show. The explosion was spectacular. It couldn't have been better and it was this moment when all us realized that this show was going to be great. In this photo is myself, Michael Kronish, Mark Muller, Austin Reading, Mancow and Adam Biggs.
Pictured here shortly before smashing each other to pieces in their derby cars is Mark Muller, Matt 'Cowboy' Harvey, William Myers and Rodney 'Hot Rod' Berry. William played a few roles in the show. He's a great guy and hopefully he'll become a more prominent character in season two.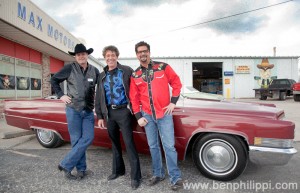 In one of our episodes, Barry Williams, who played Greg Brady from the Brady Bunch, showed up to buy a car. It was great. He brought the Tiki Doll from the famous Hawaii Bound episode as a trade in.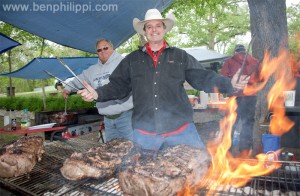 BBQ master Mark Muller cooking some the best steaks in the world. He seared these chunks of meat and then sliced them into steaks. He cooked them to perfection for over twenty of his employees on a trip in the Ozarks. It was a great time.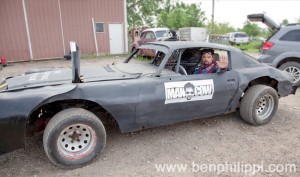 Mancow behind the wheel of The Peaceful Warrior. This car was straight up Mad Max. If you revved the engine hard enough, flames shot out the mufflers.
Mancow and Mark with a rat rod Mark acquired during filming of the show. This thing was loud, fast and dangerous. It was a 'metal coffin' according to Mancow.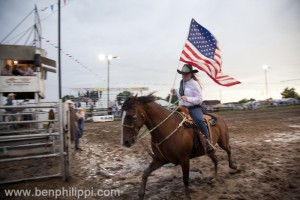 We filmed at the Butler Rodeo which was a lot of fun.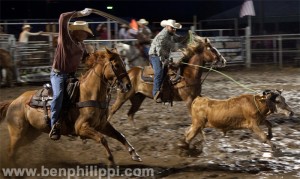 My favorite part was calf roping. Take a closer look at what these guys on horseback are doing. It's unreal. These guys are the Real Deal.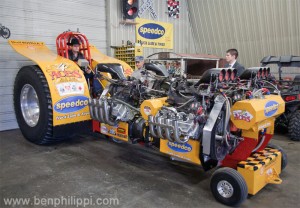 There are endless amounts of cool things to film in Missouri. A farmer will open his barn door to unveil a homemade tractor running 10,000 horsepower and worth half a million dollars. Here is Mark sitting behind the wheel of LD Nation's work of art.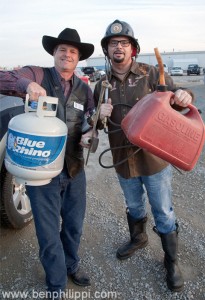 The Muller brothers about to get into trouble.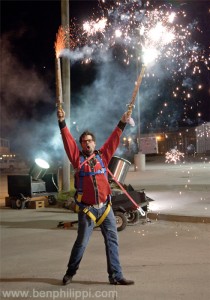 Mancow shooting fireworks at the unveiling of Big Max at Max Motors at the end of June 2013. This was a great night.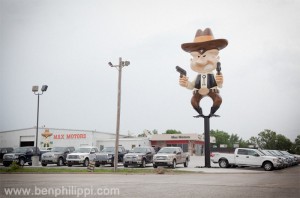 Big Max, a 50-foot high pistol wielding cowboy who has been the mascot of Max Motors since day one.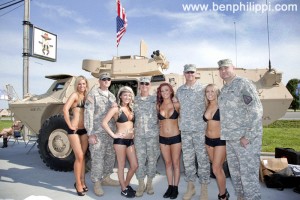 Some pretty girls and soldiers posing at the MMA fight that happened at Max Motors on June 8th, 2013.
Brandon 'Mongo' Huckaby on the right facing up to Kevin Woltkamp shortly before the MMA fight at Max Motors. Mongo is a co-star of the show and an incredible internet salesman. These two guys put on a spectacular fight for the heavyweight title that had us all on our toes. You'll have to tune in to the episode 10 to find out who won. It was a spectacular night.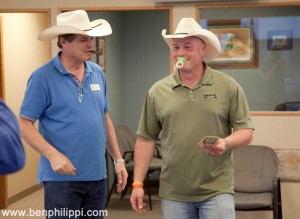 Rodney 'Hot Rod' Berry about to get the Max Motors logo tattooed on the back of his head. Mark offered him $20 dollars more to suck on a baby pacifier while it was happening. Can't remember if Rod did. It's possible.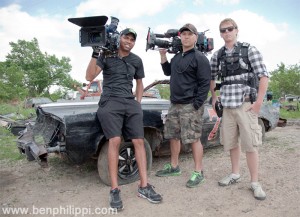 Some of our rockstar crew; Chris Carter, Jason Hafer and Patrick Monroe photographed in Dale Douty's scrapyard.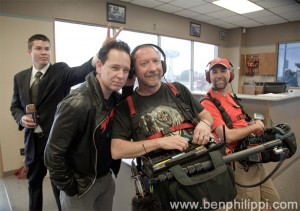 More of our rockstar cast and crew; Jason Claspill, Austin Reading, Jon Ailetcher and Devin Golub.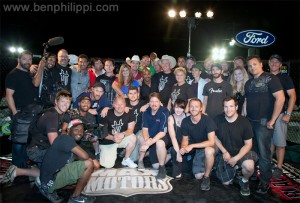 A group shot of almost the entire cast and crew of God, Guns & Automobiles taken shortly after the MMA fight.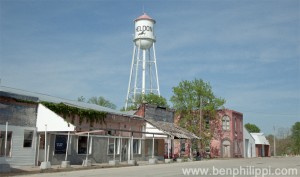 The pretty landscape of Missouri. This is the town of Sheldon.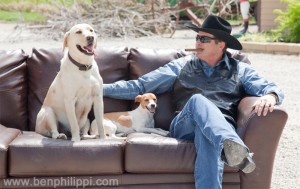 Mark with his good buddies Maximus and Lola.
Mark Muller on the cover of the photographic art book I published in 2012 called God, Guns & Guts. Mark wrote the introduction and is also featured on the cover. Mancow is in the book too. My book inspired the show and showcases contemporary American gun culture in a bold unapologetic light. You can pick up a copy on Amazon.